ADD THE CHOCOLATE TRAIN
Every Monday, Tuesday, Wednesday + Thursday May – Jun + Sep – Oct plus daily Jul + Aug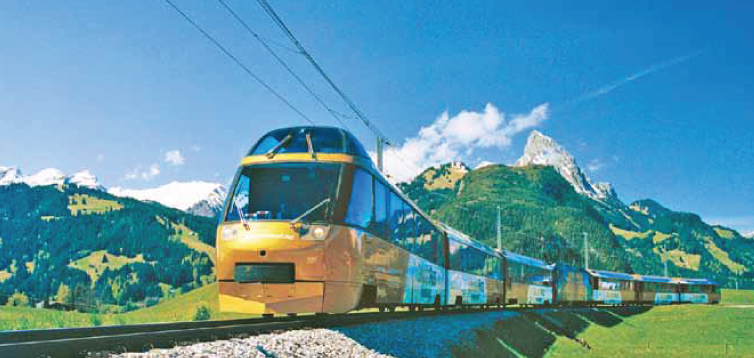 A coffee and a croissant will be served on board the Chocolate Train. The Maison Cailler-Nestlé chocolate factory awaits you. Trough a didactic itinerary, you will learn everything about the history of Swiss chocolate making tradition followed by a chocolate tasting. afterwards a bus takes you to the village of Gruyères for some leisure time.

You might go for lunch and enjoy the tasty local cheese fondue or visit the Gruyères castle. later that afternoon the bus takes you to la Maison du Gruyère for a visit of the demonstration cheese factory followed by the return travel to Montreux with the Chocolate Train.
CHF 70.– per person plus book an additional night in Montreux or Geneva.
OUR PRICE INCLUDES
Swiss Transfer Ticket Combi: Grand Train Tour of Switzerland (8 transfers) incl. excursion to Jung- fraujoch in 1st class from/to Swiss border or airport
1 night each in Zurich, interlaken, Montreux, Zermatt, St. Moritz, luga- no, lucerne: room, bath or shower/ wC, breakfast
Seat reservation luzern–interlaken Express, Goldenpass, Glacier Express, bernina Express (train + coach), wilhelm Tell Express incl. meal voucher ChF 19
Any additional tickets for optional excursions to travel by rail, boat, postal-coaches and cable cars can be purchased at 25–50% of the regular fares